It was six months after we'd adopted Skippy, when one day out of the blue, he wasn't able to propel himself up onto the sofa, and I noticed that he didn't seem to want to bear any weight on his remaining hind leg.  I called the vet's office for an appointment, and was initially told that he probably had spinal arthritis.  Because his symptoms had a very sudden onset, I was a bit skeptical of this diagnosis, but I went along with the proposed plan of laser therapy 3x per week and hoped for the best.  He also weighed in at 12 pounds, and it was suggested that we get him down to 11 pounds.  I found this helpful chart from Chewy, and set a daily goal of 240 calories for Skippy.
After one week passed, and Skippy wasn't showing any improvement, I went and saw a different vet to request x-rays.  The new vet did a thorough range of motion examination, and Skippy showed clear signs of discomfort when she palpated his hip.  She agreed that an x-ray was the next logical step, and after what seemed like the longest wait, she walked back into the exam room with her laptop and a grim look on her face.  I cried so hard when she told me that Skippy had a fracture of the femoral head on his remaining hind leg.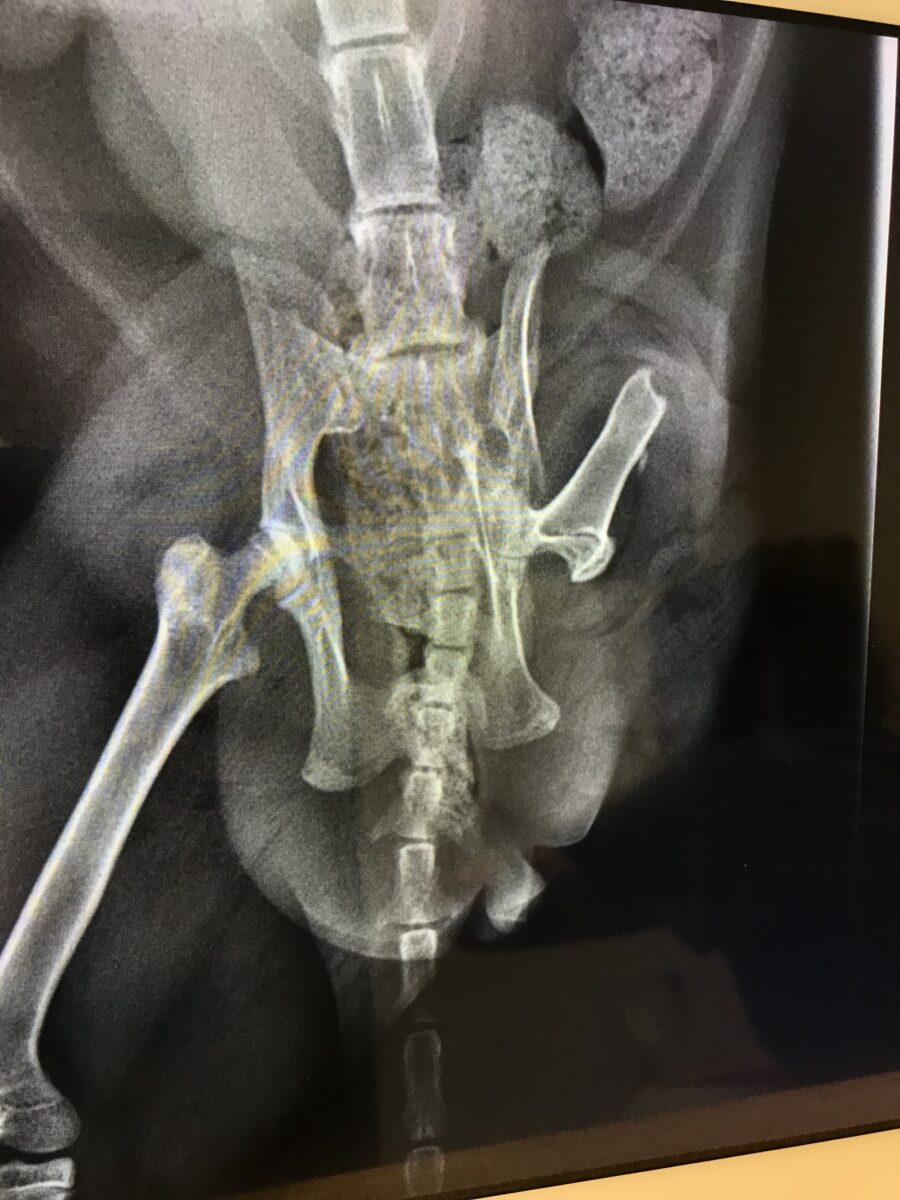 Skippy was strictly an indoor cat, and to this day we aren't really sure how the injury happened – he is a super active cat who climbs everything in the house and loves jumping from high places.  When the veterinary team reviewed the old radiographs from his original injury, they thought that perhaps this bone had originally been fractured back in 2020, and had healed due to his young age.  Perhaps now the bone had had been re-fractured by a jump or fall.  Unfortunately, because Skippy was now 18 months old, and no longer growing bone, we were told that the fracture might not be able to heal on its own.
Given all the information at hand, our veterinarian suggested a Femoral Head Ostectomy for Skippy (amputation of the femoral head/ball joint), with the disclaimer that they had never performed this surgery before on a tripawd.  I felt sick when I learned what the surgery entailed, and was really afraid of Skippy losing all mobility in his remaining hind leg.  I also didn't want to put him through another major surgery less than a year after his amputation surgery.  So, given the weight of the situation, and the risk of having Skippy never walk again, we ultimately opted to try a conservative approach at first, to see if the fracture might heal on its own.  This approach would also give me time to do some research so that I could make the best decision for our sweet boy.